CITEL: best-in-class service quality
From the technical expertise to the operational deployment, we are passionate about all aspects and topics related to SPDs.
Our teams are composed of engineers and SPD specialists who can bring forward the best insights and solutions. Our technical and sales teams around the world are organized to share experience and knowledge.
Our teams place the user at the heart of their practise. Providing advice and training to their clients, they strive to bring the most appropriate product solution. Our local teams master both the language and the market specifics.

Our logistic: flexible, trustworthy and committed, reassures our customers.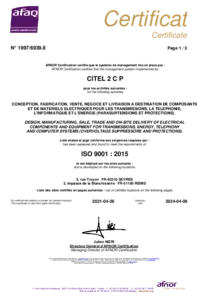 ISO certificate